EPNS TRAINING COURSES ALICANTE 2019 EPNS TRAINING COURSES ALICANTE 2019
---
EPNS TRAINING COURSES 2019
REGISTRATION please click this link: REGISTRATION FORM EPNS Training Courses 2019 Alicante
Registration is required for all trainees and it is only open for EPNS members. If you are not a member, please email info@epns.info for more information. 
Registration is confirmed once the payment is received (see terms of payment). During your registration and payment, you will need to fill in the "invoice data" section. VAT Number means personal or company identification number 
 May, 9th: 20h00 Restaurante Aldebarán (Puerto de Alicante)

Aldebarán Restaurant in Alicante overlooks the sea, located on the top floor of the Royal Regatta Club in the marina.At the head of its gastronomic offerings are the wide variety of typical regional rice and seafood dishes made with fresh fish and seafood brought in daily from the fish markets of Alicante and Santa Pola. From the warm rooms of Aldebarán, you will enjoy a spectacle of all kinds of watercraft resting in the quiet waters of the Alicante Harbour, as well as the precious views of Santa Barbara Castle and the entire seafront of the city of Alicante. Transport will be available to the restaurant for dinner at 19h45 from Hotel Complejo San Juan.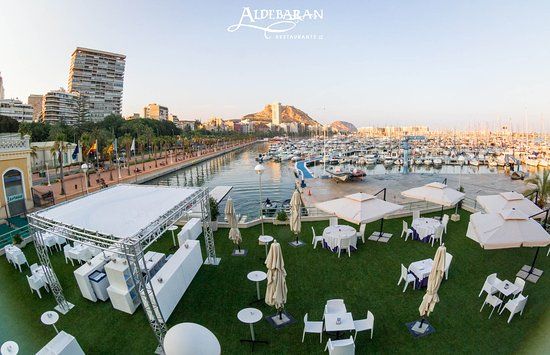 VENUE
The Hotel Complejo San Juan is in a privileged location in San Juan of Alicante, to 5 minutes of the beach of San Juan and to 10 minutes of Alicante's city center. 
This emblematic hotel complex has an extension of 65.000 m2 surrounded with gardens and offers numerous services as restaurant, buffet, bar, lounge with terrace, swimming pool, chapel, library, gymnasium, 6 tennis courts, 2 padel tracks.

Hotel Complejo San Juan
Calle Dr Pérez Mateos, 2. 03550 San Juan de Alicante  


COURSES COSTS (VAT Included)
One-course registration fee (230 EUR) includes:
2-day scientific program. Course materials.

1 evening social program with dinner

2 lunches, coffee breaks and 1 dinner
Two-course registration fee (330 EUR) includes:
4-day scientific program. Course materials.

2 evening social program with dinner

4 lunches, coffee breaks and 1 dinner
Accommodation:
In Bed&Breakfast regime. Includes breakfast and taxes. Hotel chek-in from 16.00, Check-out until 12.00
SINGLE Room: 60 EUR/night/person

SHARED Room: 88 EUR/night/room (44 EUR/night/person). In this option a roommate is required. There is an accompanying person fee obligatory for people not registered for the courses.
One course accompanying person fee (105 EUR) includes:
1 evening social program with dinner

2 lunches, coffee breaks and 1 dinner
Two courses accompanying person fee (210 EUR) includes:
2 evening social program with dinner

4 lunches, coffee breaks and 1 dinner
IMPORTANT: Registration fee does not include individual insurance of participants against personal accidents, illness, cancellation, theft, property loss or damage. Participants are advised to purchase personal travel insurance.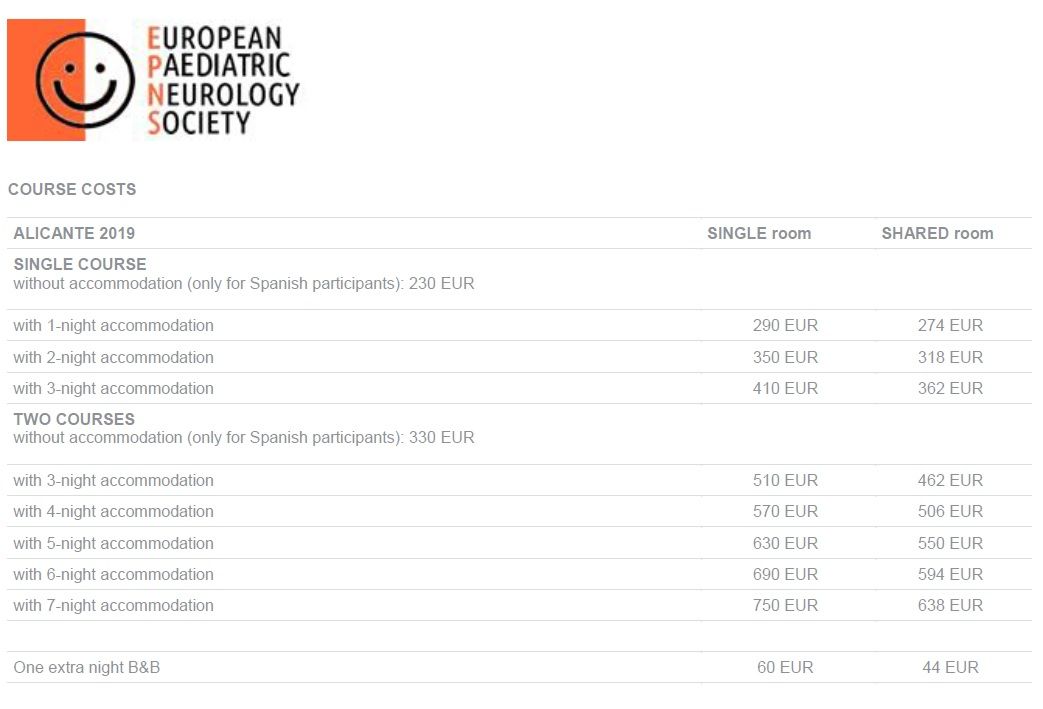 TERMS OF PAYMENT
Payment by bank transfer:
Contact technical secretariat.
The organisation won't assume the bank taxes.
 In this case, please send proof of payment by e-mail to eventos@grupoesoc.es. Bank transfers must be received within 5 working days after registration to secure the place.
Payment by credit card/ Paypal: 
By credit card payment: +4 EUR
By Paypal payment; +20 EUR
Invoice
Upon receipt of the registration payment, the participant will receive a confirmation from the Course Secretariat by email (invoice). If confirmation has not been sent after one week of the payment, please contact Course Secretariat at eventos@grupoesoc.es
Changes
All changes in accommodation should be sent to the course secretariat, not to the hotel.
CANCELLATION TERMS AND CONDITIONS
All the cancellations and changes must be sent to the Course Secretariat (ESOC Eventos) in written form. All refunds will be processed after the course.
100% refund minus 50 EUR administrative fee and bank fees one week before the beginning of the course. 

Please send your exact bank account details.
If you have any questions about the registration or other queries, please contact conference organizer:
ESOC EVENTOS c/Río Duero, 30 – local 1003690 San Vicente del Raspeig (Alicante)
Tel. +34 610505650 eventos@grupoesoc.es